ALERT: The Sacramento Make America Great Again March, which will have multiple right-wing extremists and Neo-Nazis in attendance, including several who have a direct history of stabbing activists,  is scheduled for the same day as the annual Cesar Chavez March. If you are planning on attending the Cesar Chavez March on Saturday, March 25th, take every precaution to stay safe in the streets. Do not travel alone, and be on the lookout for fascist activity. These groups are violent and unpredictable, and there is no telling what they may have planned. Don't allow the threat of their violence to prevent you from attending, but do plan on being on high alert throughout the day.
Almost 8 months have passed since the bloody escalation at the California State Capitol in Sacramento on June 26th. The failed Neo-Nazi rally was attempted by the Traditionalist Worker Party (TWP) and the Golden State Skins (GSS), and was decisively shut down by Anti-Fascist and anti-racist protesters. This came at the cost of 6 anti-racists who suffered stab wounds inflicted by GSS members who were representing the TWP in California. GSS members clashed with a handful of the over 400 protesters who had occupied the capital grounds from earlier in the morning. The protesters were determined to deny the fascists their meager rally, which some members traveled from as far as Southern California and Colorado to attend.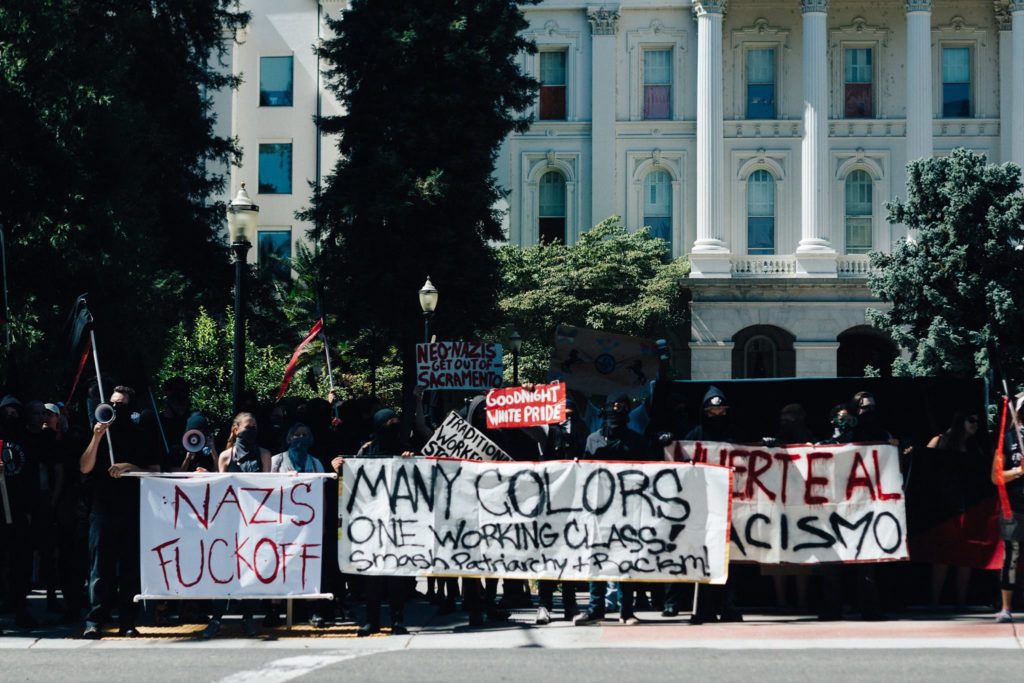 Now, the same group of Neo-Nazis is gearing up for and organizing towards the MAGA rally in Sacramento on Saturday, March 25th. The primary organizer associated with the public face of this event is Alicia Helene Clayton, aka Alicia Peterson (32) of Citrus Heights. She has gained the support of a wide variety of camps in the Trump fandom, spanning the range from more traditional conservatives and nationalists to self-identifying Deplorables, a subset of the greater alt-right movement with which Clayton identifies (though Deplorables have superficially tried to distance themselves from the alt-right for its overt white supremacist politics), and even overt white supremacist factions such as the GSS, a gang of traditionally violent racist skinheads.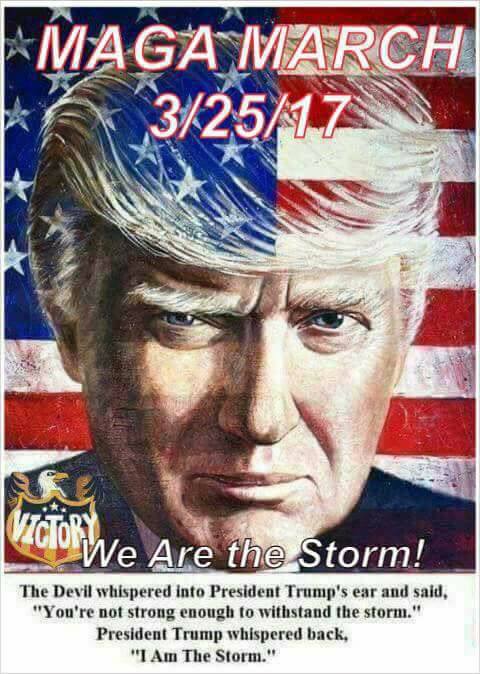 Clayton has announced that various right-wing biker, paramilitary, and pro-Trump patriot groups will attend the rally and take on security functions. The location of the march has been the subject of some controversy, with three different possible locations surfacing throughout its development. The MAGA March event page originally listed the starting location as the State Capitol, boasting of a permitted event featuring live music and free food. Not long after, we received a copy of an email stating that the event would instead begin at Sutter's Fort, nearly 20 blocks away. The email hinted that more details on the actual march location and route would be released to the event page on Friday afternoon. Finally, on Friday, a new flyer was posted listing the final location as McKinley Park. Promises of free food had devolved into "bring your own hot dogs", and live music had been replaced by guest speakers. It is worth noting that we cannot be certain which (if any) of these locations is legitimate. Of course, neither can any of the events would-be attendees.
Patriots, Deplorables, and Neo-Nazi Skinheads
In the weeks leading up to the rally, Clayton called for small pro-Trump and nationalistic rallies in the Sacramento area, including rallies at the intersection of Sunrise Blvd. and Greenback Ln. in Citrus Heights. Multiple GSS members, as well as a violent Trump supporter who was recently photographed threatening people with a knife on March 4th in Berkeley participated in these rallies. Clayton herself has made several posts praising the violent fascist and thrice convicted felon Kyle "Based Stick Man" Chapman who gained celebrity in alt-right circles for attacking Anti-Fascist protesters.
A key part of the on-ground approach employed by increasingly emboldened grassroots white supremacist factions has been to shroud their more vulgar politics with traditionally socially acceptable forms of racism and bigotry, typically expressed through American exceptionalist nationalism and militarism and its associated rhetoric and symbols. This false front grants them the cover to push their more overt and vulgar white supremacist politics while avoiding being quickly disavowed by mainstream conservatism, which generally prefers to uphold white supremacy in a more subtle way, relying on more structural and ideologically obfuscated approaches. Simultaneously hiding behind and claiming kinship with mainstream American conservatism is also a part of their entryist political strategy- many radical white supremacists are moving to try to radicalize a broader group of ideologically aligned individuals by meeting them where they're at and playing at participating in their politics.
It is in this context that we must examine the actions of both Alicia Clayton and the GSS members participating in the organizing of the 3/25 rally. As a "deplorable", Clayton walks the blurry line between the alt-right and mainstream conservatism. Thus, while she may publicly support and celebrate violent fascists like Chapman, her rally is centered around parroting watered-down, non-objectionable patriotic dogma about military veterans and police to appeal to mainstream conservatives. The same goes for GSS members who participate in these rallies posing as average nationalists with less overt Neo-Nazi politics. This cover of supposed innocence is used to manipulate the public narrative, painting Anti-Fascist opposition to Neo-Nazis and their genocidal and anti-egalitarian social goals as being authoritarian and "anti-free speech." It's important that Anti-Fascists not just physically confront Neo-Nazis in the streets, but also challenge the prevailing notions of so-called free speech itself, and how that concept functions under a State that is structurally white supremacist to the core, where only certain types of people have the luxury of believing in and benefiting from it.
The Golden State Skinheads
Since the events that unfolded on June 26th, Anti-Fascists from all over Northern California and beyond have been carrying out an extensive intelligence gathering operation, mapping out the GSS cadre and identifying those responsible for stabbing our comrades. While this campaign remains ongoing and its findings have not yet been released in order to protect currently embedded sources and informants, an extensive piece detailing the structure and core membership of the GSS will be forthcoming in the near future. What follows is a small portion of the intelligence gathered on some of the GSS members believed to be involved in organizing and participating the in the upcoming March 25th MAGA rally:
William Scott Planer aka Wilhelm Von Panzer
In late spring of 2016, sources within the Colorado white power movement informed us that William Planer and Joshua O'Leary would be traveling from Colorado to California to attend the June 26th rally. Sometime after the rally, the same sources relayed that Planer had been bragging about his involvement in the violence that day to others in the local Neo-Nazi scene- specifically, for his role in hitting a woman in the head with a stick after she had been knocked to the ground, with such force that it broke the stick in half. Video footage from the attack was widely circulated on social media, and Planer even used an image of the attack on his social media profile.
After this attack, he retreated from the scene and pulled out a pocketknife, attempting to hide the closed blade in his palm. A block east of the large confrontation, Planer stabbed a young woman in the abdomen across the street from Capitol grounds before escaping the scene in a getaway car.
Planer has an extensive criminal history with multiple felony convictions, and has been previously incarcerated. Planer has stated on social media that he will be traveling to Sacramento again to attend 3/25 rally.
Jason Kale CAS
Jason Kale CAS is the 6'6″ individual seen armed with weapons and a shield and wearing a baseball cap reading "border patrol" on the day of the June rally. He was captured on film violently attacking Anti-Fascist protesters before retreating with the rest of his group. In one image, he is seen attacking a protester with a stick while another Nazi stabs them in the abdomen.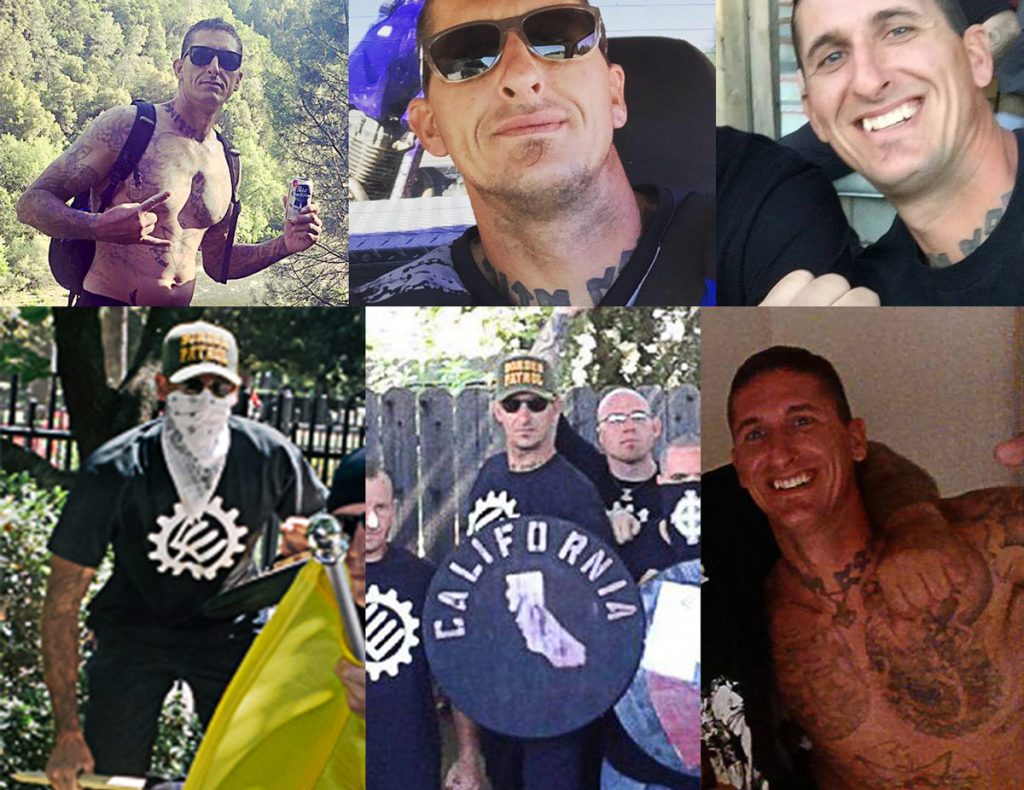 Kale has attended Alicia Clayton's pre-25th rallies along with other GSS members, and has been in close communication with her. Despite his profile being rife with overt Neo-Nazi imagery and other fascist material, Clayton has shared his videos and publicly expressed gratitude to him for promoting and participating in her rallies. He was joined by fellow GSS members Joshua O'Leary and Clint Durnay during one of these rallies. Kale works as a solar panel installer in the greater Sacramento area.
Joshua O'Leary
O'Leary traveled with Planer from Colorado Springs, CO to attend the June 26th rally. He was seen wearing a white bandanna around his head and assaulting anti-racist protesters at the skirmish. He was easily identified by his one missing ear.
A Look into his past revealed that O'Leary also has an extensive criminal history, and was arrested and held as recently as November 2016 for violating his parole. While O'Leary lived in Colorado for a while, he has since moved back to the Sacramento area with his partner Kassandra and their child.
Clint Durnay
Durnay also participated in the June 26th rally, and attacked anti-racist protesters while armed with multiple weapons and a shield. He was quick to retreat with most other GSS members. Durnay was a close friend of previously identified Nazi stabber Derik Punneo. According to a source, Punneo and Durnay regularly used opiates like oxycodone and stimulants like methamphetamine, which is unacceptable in GSS according to their official rules. After Derik was outed as one of the stabbers soon after the rally, his increasing erratic behavior and substance use apparently resulted in his ousting from the organization, as well as Durnay turning his back on him. Punneo would later be arrested for domestic violence against his partner. Durnay is expected to attend the rally. He current resides in Citrus Heights with his partner and child.
Nathan William Lowry aka "Lee Roy Jenkins"
Prior to the June 26th rally, Lowry maintained social media accounts under the name "Lee Roy Jenkins," and acted as the liaison between the Traditionalist Worker Party and GSS, working as the point of contact for Neo-Nazis seeking to participate in the rally.
He was photographed attacking anti-racists with a metal flag pole, though he quickly turned tail after being caught in a stream of pepper spray. Lowry has an extensive criminal history in California and Washington State, which includes felony charges stemming from strangulating a former partner and possessing an illegal firearm among other violent acts.
Impunity for Nazis, Repression for Anti-Fascists
While a wealth of images and footage available online shows damning and identifiable evidence that these Nazis are responsible for the June 26th stabbings, the state has thus far refused to charge a single GSS member. This of course is not a surprise for those of us struggling as anarchists and Anti-Fascists against not only individual white supremacist and Neo-Nazi groups such as GSS, but also structural white supremacy as it exists within state institutions. This invariably includes the police force, which historically has directly relied upon the violence of white supremacists such as the KKK to maintain the status quo.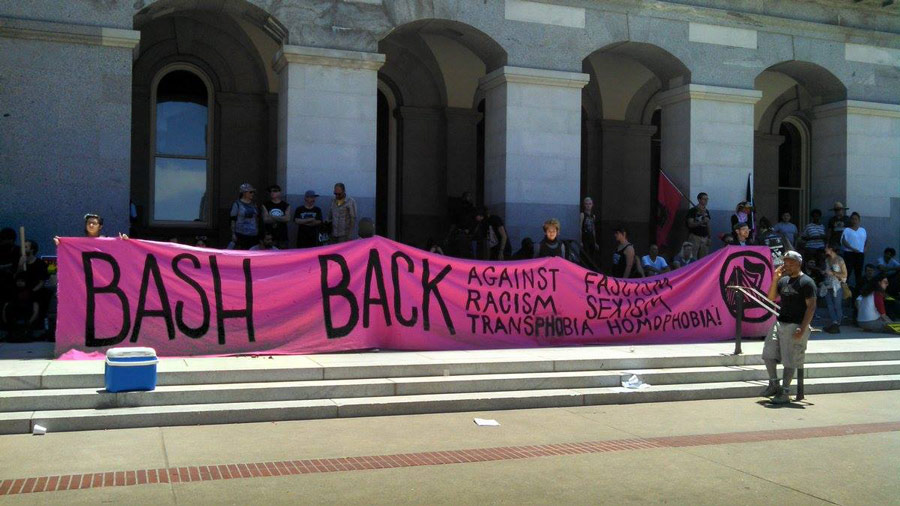 Recently, the CHP announced that they had forwarded the results of their extensive investigation on the June Rally and subsequent counter-protest to the Sacramento District Attorney with recommendations to charge 106 individuals with 68 felonies and 514 misdemeanors. Based on historical evidence, it is widely anticipated that the majority of these charges will be directed at anti-racist protesters rather than the Neo-Nazis responsible for the stabbings.
As Anti-Fascists, we do not rely on the so-called justice of the State and its enforcers, and instead call upon those fighting back against fascism and all other forms of race, class, and gender-based oppression to strengthen their anti-repression knowledge during this time and make space to fight against the impending state repression that many will be facing. Let us repeat: there are many ways to fight fascism and white supremacy beyond confronting it in the streets. Just as important as physical confrontation is supporting the anti-racist struggle and those facing the legal repercussions of choosing sides in the war against white supremacy. The vital work of providing legal, material, and emotional support for those soon to be facing charges and their loved ones will play a huge role in securing the upward trajectory of anti-racist struggles in our region and beyond.
Let the Nazis not only fall short of us in our capacity to confront and shut them down in the streets – as we have always done and will continue to do in the days and months to come – but also our strength in caring for and supporting each other. We outmatched them on June 26th on the bloodied grounds of the State Capitol. Now, we will rise to the occasion once again and outmatch them in unwavering support of our comrades facing state repression. No Anti-Fascist left behind. Not now, not ever.
Learn more about fighting fascism in the face of state repression.